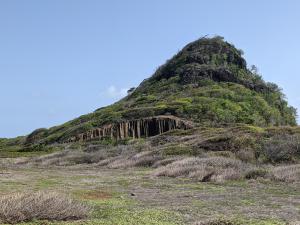 Grants
Biodiversity
Enhancing Frigate Island for Biodiversity Conservation – Phase I
$27,555.00 awarded
The SVGEF awarded SusGren this grant to fund two major activities – a biodiversity study
and a clean-up of Frigate Island.
Over the years the area has been plagued with garbage which fostered invasive species such as rats that can be detrimental to birds and other wildlife whose habitats are disturbed.
A Terrestrial Flora and Fauna Study was carried out in April 2021, by Ms. Lystra Culzac, Consultant, and Mr. Glenroy Gaymes, a Forestry Officer from the Forestry Division in the Ministry of Agriculture and Forestry.
In summary, findings revealed that there are five major vegetation types recorded on Frigate Island.
These include Littoral Woodland, Rock Pavement, Mangrove and Coastal Grassland mixed with Coastal Strand. A total of fifty-eight plant species were also recorded representing thirty-two different families. Nineteen bird species were recorded, two of which are endemic to the West Indies. These included seabirds, land birds and wetland species. During the study, the Tropical Mockingbird (Mimus gilvus) was the most observed species, and one Barn Owl was spotted during night assessment. There were seven other vertebrates recorded one of which was the Grenada Bank Tree Boa that was spotted during the beach clean-up activity.
The Beach Clean-up activity was done after the terrestrial Flora and Fauna study so as to not disturb the species prior. A local contractor along with an eight member team was hired to carry out the activity. Persons and businesses in and around the Ashton Lagoon were thrilled about the initiative undertaken by SusGren and offered their assistance to help. A total of 60 bags of trash was collected. Since the clean-up persons are now frequenting the area for more recreational use.