The SVG Environment fund mourns the loss of its Chairman Hon. Henry Channon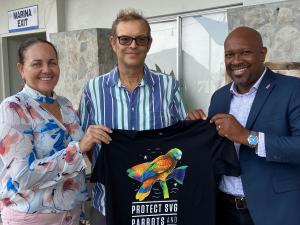 The St. Vincent and the Grenadines Environment Fund mourns the loss of its Chairman the Hon. Henry Channon. Channon, long-standing Mustique homeowner, championed the causes of the Fund as its Chairman from January 14th 2021 until his passing on Sunday October 24th 2021.  During his time as Chair he led the Fund's commitment to finance in full and to the best international standards the restoration of the Cumberland Nature Trail, as well as many other projects. In Henry's words, "We don't want to just build any old trail, we want it to be spectacular, with its bridges and structures to be built using top-class architectural designs."
According to our Executive Director Louise Mitchell, "Since taking the post of Chairman, Henry truly blossomed and brought amazing, positive energy to the SVGEF. His drive and passion allowed the SVGEF to record major successes in a short time frame. He is, for certain, gone too soon."  Further, she stated that Henry's passion for the environment was one which encompassed a sensitivity to the needs of the environment's custodians, the people of SVG.
Henry is seen here in the photo meeting with the Hon. Saboto Caesar to discuss the Fund's support to the Government in restoring its forests in the aftermath of the volcanic eruption and other projects. Henry can also be credited for gaining Government support for the removal of invasive species from certain Grenadine islets, thereby restoring their bird life and general biodiversity, among other exciting projects.
The Fund extends our heartfelt sympathy to his wife Katie Channon and all their children, his friends and extended family. The SVGEF will forever be grateful for his short but incredibly successful chairmanship from January 14th 2021 to October 24th 2021. Farewell our dear dear Henry.
The SVG Environment Fund, founded by Bryan Adams, Ben Goldsmith and Louise Mitchell in April 2016 generates financing for environmental conservation in SVG. It is part of a network of funds set up by Ben Goldsmith, known as the Conservation Collective @conservationcollective.org