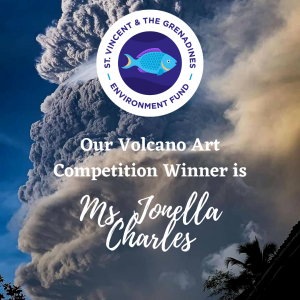 Ms. Jonella Charles, a recent graduate of the St. Vincent and the Grenadines Community College, where she studied Fine Arts Design and Communications under the instructions of lecturers Mr. Dane jack and Ms. Leytisha Jack. In the aftermath of the April 2021 volcanic eruptions, Jonella decided to do a series of paintings. Her inspirations were what she saw from the relative safety of her home in Largo Height, as well as photos sent to her by relatives and friends across the island.
When SVGEF launched its Volcano Art Competition, she was encouraged by her Mother and her Lecturers to participate.
The piece submitted (one of three she completed) was mainly inspired by a photograph taken in Byera, in the North of the island, as well as Richard Dey's poem "Volcano Septet". She indicates that in this piece, she was inspired by the beauty and dangers that nature delivers, in tandem.
Jonella was elated that her entry was chosen as the winning entry.
We extend hearty congratulations to Jonella.