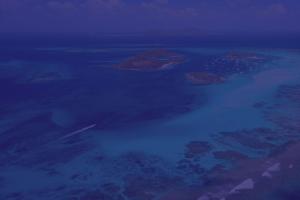 Marine Conservation
Area of interest
The St Vincent and the Grenadine islands and their marine waters are unique ecosystems that require special support in order to sustain and protect them. Endangered species find shelter in the hospitable seabed, which is characterized by its abundant life: the sea turtles such as the green, hawksbill and leatherback, the spinner dolphin, and the migratory humpback whales can all be found in the expansive waters.
There is one marine protected area called the Tobago Cays Marine Park but there are many other areas deserving of protection and it is the policy of the SVGEF to support such efforts.
Economic development, population growth, overfishing, uncontrolled construction and climate change significantly increase risks for marine and coastal habitats, assets and ecosystems. Marine and coastal pollution, especially from the plastic invasion, remains one of the most dangerous threats to both ecosystems and humans.